I decided to make some cookies and I found a recipe on Martha Stewart. The recipe is called Outrageous Chocolate Cookies. I did not have the semi-sweet chocolate on hand and I did not have semi-sweet chocolate chunks. So I used semi-sweet chocolate chips and melted them down and instead of the chocolate chunks, I used dark chocolate M&M's (leftover from all of the Easter Candy). The recipe said it would make 24 cookies and I used the small scoop from Pampered Chef and made 40 cookies I'm glad I took these pictures the night I made them because by the next morning, yep you guessed it, the little guys devoured them. None left. And I would make some more but I don't have anymore chocolate chips. Need to find another recipe to make them some more cookies but this time, I'll need to keep them out of reach.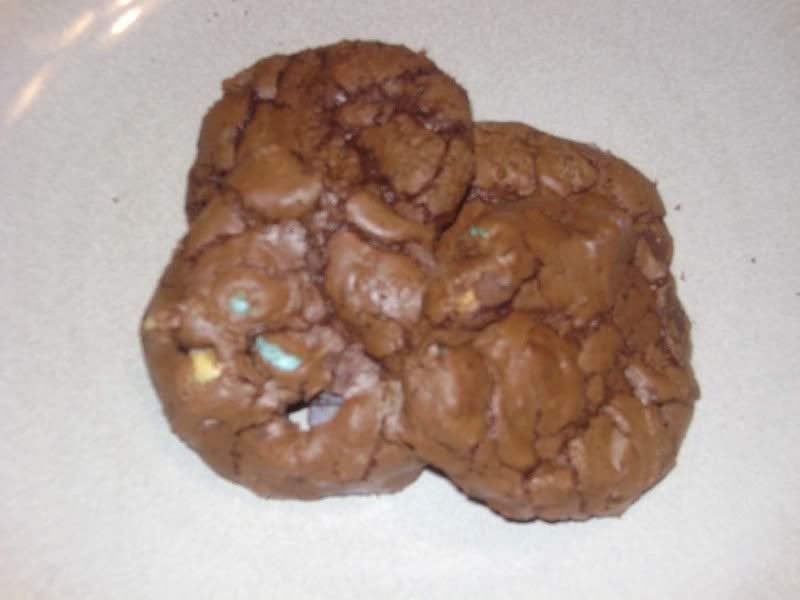 Onto more exciting news, I completed another project on Wednesday. I had been putting it off, I'm really not quite sure why. But she's finished and I'll be posting pictures at a later date.
I also finished another block for the Dear Baby Jane that I'm working on . This block is B13 and is called Four Corner Press. I chose yellow for this ring that the block belongs in and while I was going through the box of fabric found the yellow bandana print and while looking for a larger block I came across the fabric that I used for the center. I think they worked out well together. I have to start working on the appliqué blocks; this will be something new for me as I have never done appliqué. The saying you learn something new everyday will hold true for this.