I did a little baking, a little sewing and a little cleaning yesterday. I have done the same today as well. Yesterday I baked a Strawberry Bread, like a banana bread but with strawberries. Mmmm is it good. The recipe makes 2 loaves, so I kept a loaf out and put a loaf in the freezer. The bread is moist and not too heavy.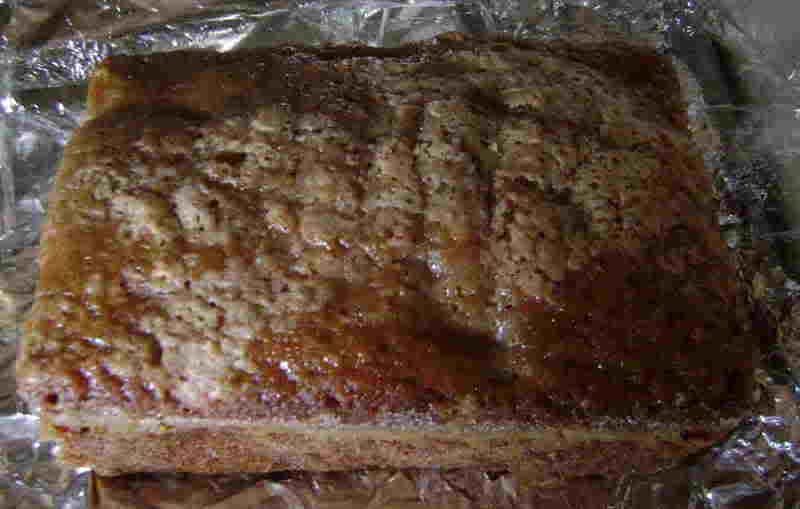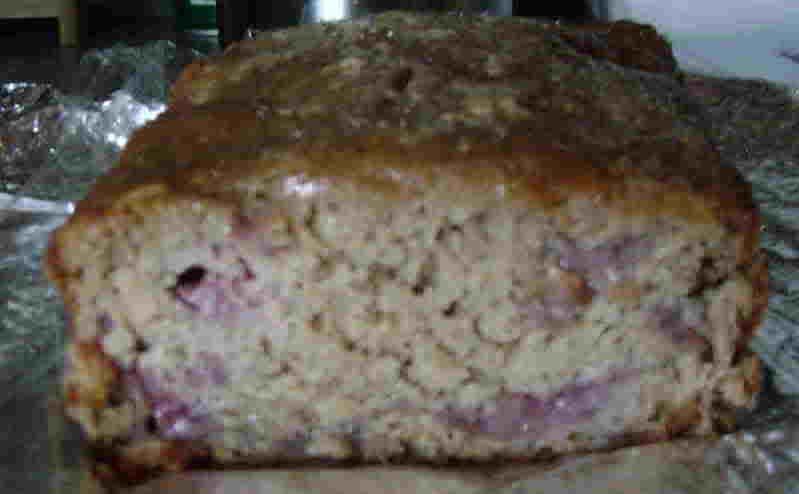 Then I did a little sewing, I finished my valances for my kitchen and then worked on the cafe curtains for the kitchen window as well. I'll have to take a photo at night, the day photo just did not turn out. I have many projects in my head for sewing, but I don't feel enough time to get them done. Baby steps, that what I need to take when it comes to sewing.
I should not have gone to Wal-Mart last night to get curtain rods, I stopped by the fabric department because, it is one of the unfortunate ones that will be closing soon, and they had reduced all of their fabric down to 50% off the regular price. Now, there is not much left, but I did manage to find some nice baby prints (denim days teddy, teddy bear), a nice toile, and a few others that I can't seem to recall right now. What did I buy them for, I'm not sure but a girl that likes to sew can never have too much fabric. And well, it was such a good deal, I'll make some things up to sell.
Now onto my cleaning projects...my husband purchased the Shark Ultra Steam Blaster while I was on vacation and let me say, it is the best. I have become addicted to cleaning with this little machine. I steamed my baseboards, floor and window sills in my living room on Tuesday and on Wednesday, I steamed the baseboards, washer, drier, freezer and cabinets in the laundry room. I just love it. I tried to do the bathroom today, but think I may have to wait, 2 boys (potty trained) and a daddy, I'm afraid to do the base around the toilet.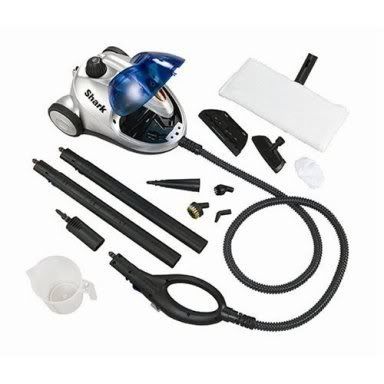 And, onto my vacation photos. These are just a few of the many snapshots that I took. I am going to get the CD's made to send to one friend and the other friend will be visiting next week with her kids, so I can pass along the CD to her.
The view from our room the first day...Hurricane Dean was out in the Carribean and well, we stil had the choppy water. The waves were really rough. By the end of the week, the water was calm and you would have never known that the waves had been this rough early in the week.
The next few photos are of the baby sea turtles that we were fortunate to see leaving their nests. There were nests up and down the beach where we were staying. Twice a day turtle volunteers would walk the beach to survey the nests. Of an evening, if the nest had hatched 3 days prior they would check the nest for any survivors that had not come out yet and set them free. We have some photos of that, however, it was dark enough outside you can not really see the pictures. The photos I do have are of a nest that had 5 turtles come out late in the day (usually they come out overnight) and we happened to be on the beach. One little guy/girl was stuck in a footstep and finally got out, one was stuck on some seaweed and finally got over the hump and then the last photo is of three of them making their way to the water. We also took a picture of turtle tracks from a nest that had hatched overnight and we were on the beach early the next morning. I was definitely being a mom, I did not want those little turtles to get hurt and I wanted them to make it safely in the water, so we stood and cheered them on. Helping them or touching is illegal and you could be fined $500-$20000. So we just watched and hoped they made it.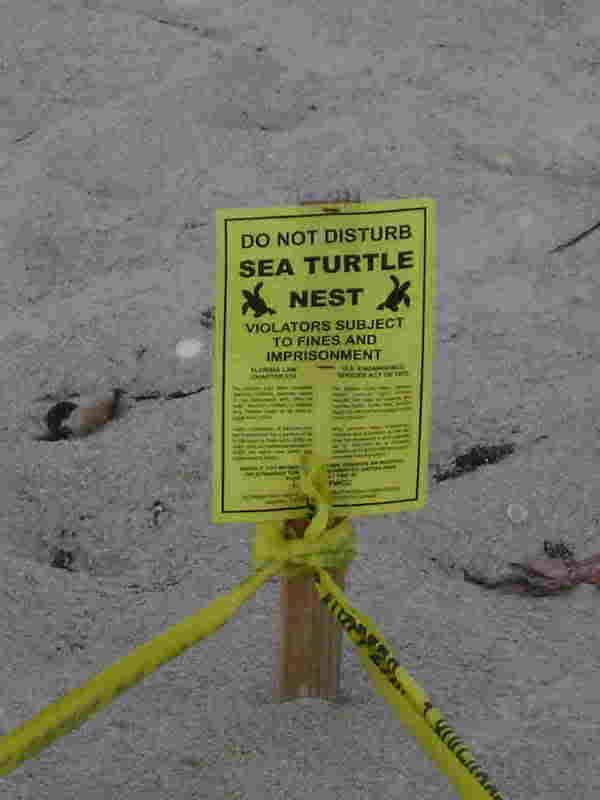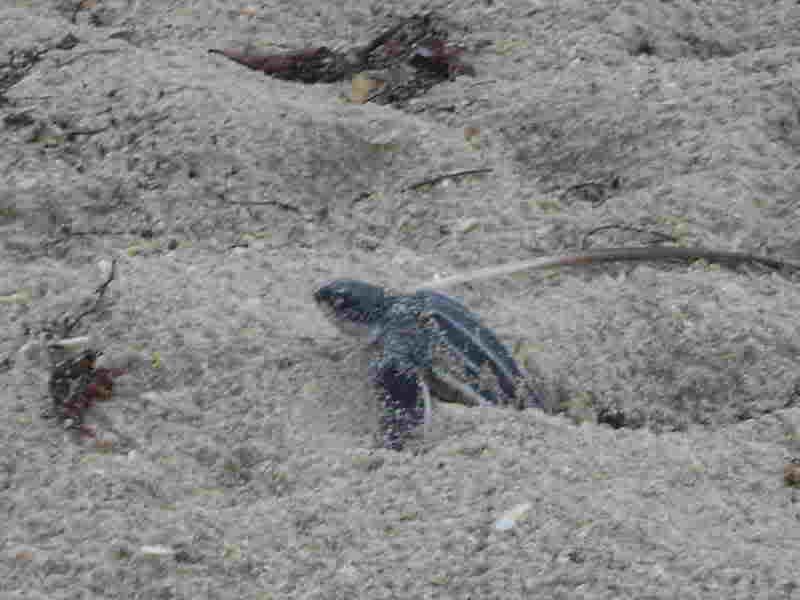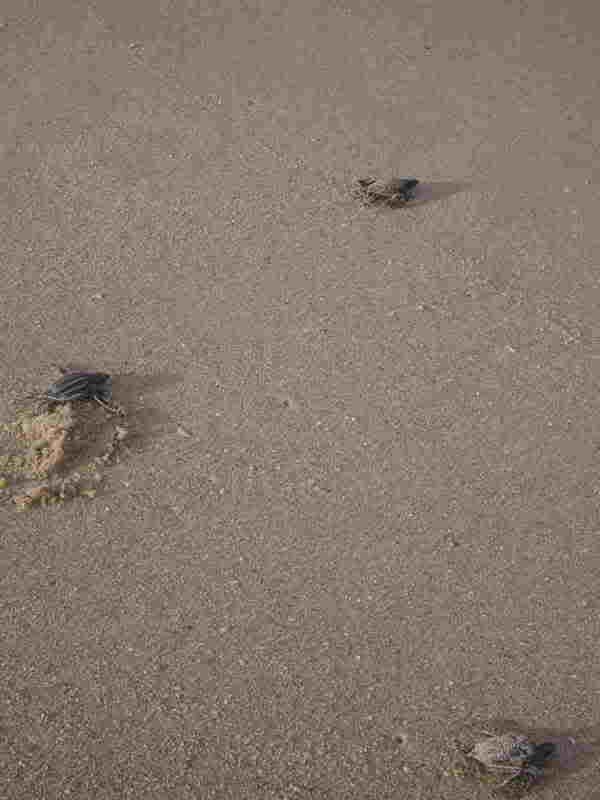 While walking on the beach picking up seashells, I'll post more about my seashell searching and how I transported them home. We stumbled across a jelly fish, dead, but still a jelly fish. He was pretty big and it was high tide and so the waves were coming up and we would run away from the water and the jelly fish for fear he would get us.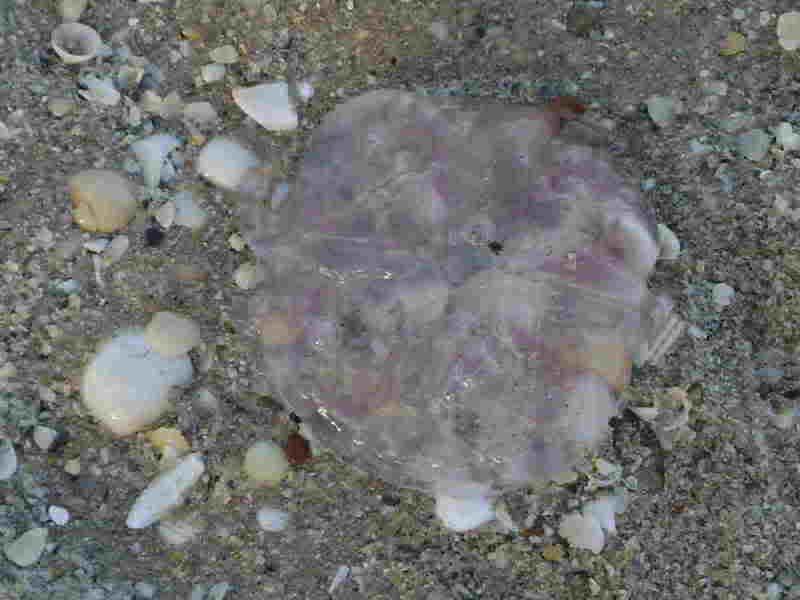 We encountered a large lizard on our last day in Palm Beach Shores. We were walking back towards our resort after doing some gift shopping and came across some lizards. There were at least 2 and may have been three, but I only snapped pictures of one.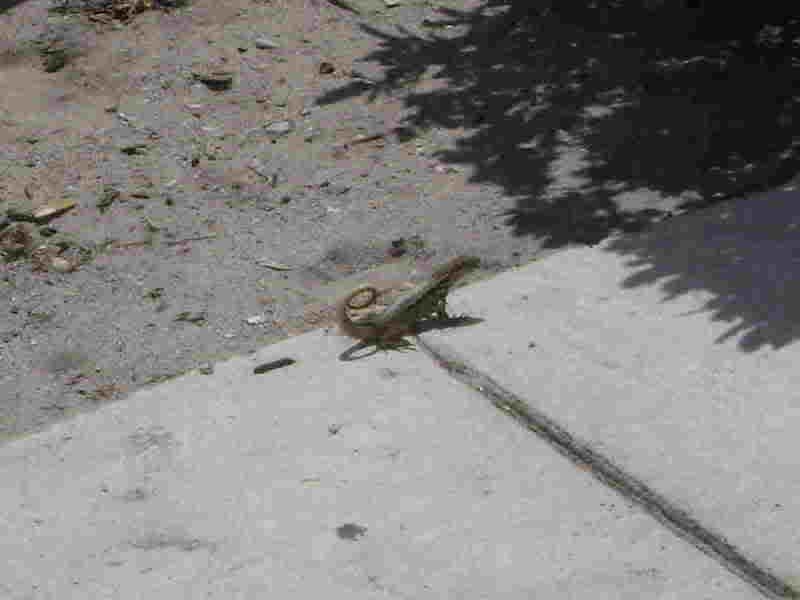 And finally, this is the last night nice night on the beach. Saturday night, it was raining, so this was taken on Friday night.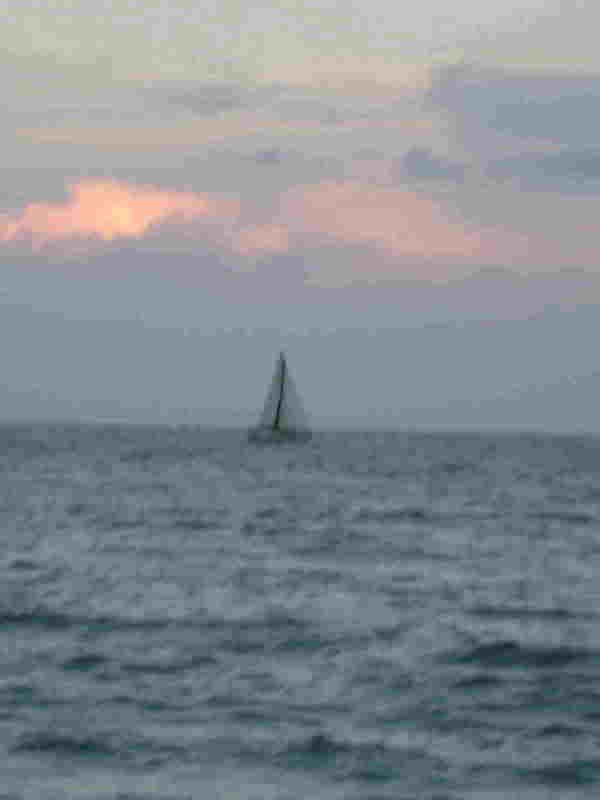 Have a wonderful day!