It is finally Friday and though I don't have much to say or report on my craftiness, I do have some photos to share. At first I thought I had some photos of the crafty gifts I made for friends and family but I guess because I was in a rush to get them done, wrapped and either given or mailed, I forgot to take pictures. Drats, I do hope to get better at that this new upcoming year. I have been working the last few days in our basement, getting toys organzied, trying to get rid of toys. Which is hard when you have 3 boys all close in age and playing with the same yet different toys. I swear I don' t think we have any room for anything else.
I have also been working on getting my crafting area in order and under control and more "user" friendly. I have struggled with this since moving into our home. I should belly up and take pictures so you can understand what I'm talking about, but I am ashamed at how it looks. I see all of these beautiful sewing nooks and only wish that mine looked that way. I don't even have a window to set my machine under, which is why I usually move my machine upstairs onto the dining room table. But alas, my dining room table looks like a trashed area and I get frustrated and don't want to do any work. That is my reason for cleaning and organizing the basement these last few days. I am trying to figure out how to make it more appealing to the kids to play in (how could it not be, it is a wonderland of toys). I have noticed that the kids are more apt to play in the basement when it is picked up. So, how do I get them to help me pick up? That will be a project to work on.
Anyway, back to the sewing area. My sewing space is also shared with the office. I have about 1/3 of the room dedicated to sewing and the remainder is the desk, file cabinet and desk space. I have been pondering moving my area to the guest bedroom, the problem with this is that it puts me on the 2nd floor of the house and the kids playing in the basement or destroying the family room. I have also pondered, talking with my husband about selling our weight machine. Neither of us uses it, he and I both have gym memberships and it takes up a lot of space. If we removed it that would make a nice are (even under a window) that I could work. Not sure what will happen. But I really should take before and after pictures. But as I said. I am ashamed.
I have really gotten to feeling much better. I actually want to clean. For me that has been a struggle over the last several months. Now if only the laundry fairy would come and magically wash, dry, fold and put away my laundry. Oh how I dislike laundry and can't keep up with it.
So now for the pictures: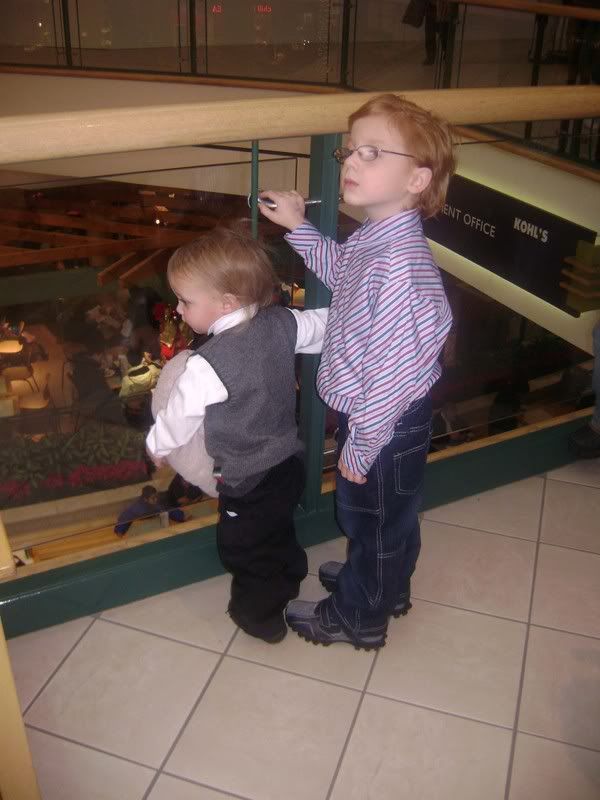 Looking at the dancing water.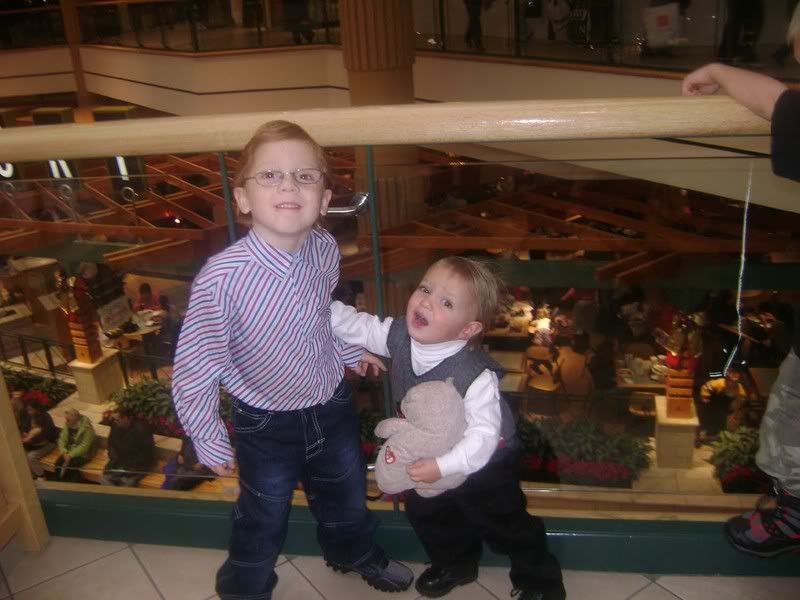 The little one didn't want the big one near him for a photo.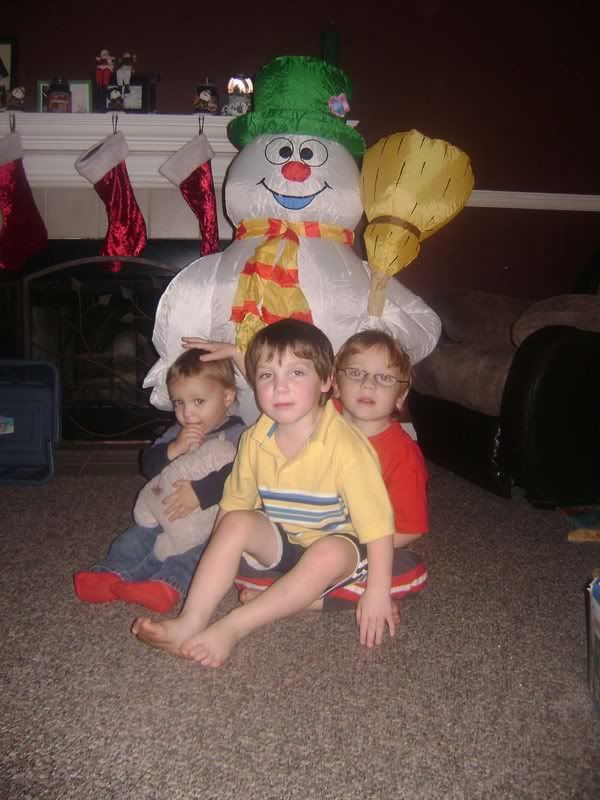 An attempt to take a picture of the boys with Frosty (this is the only one that looks partially decent of all three of them, the rest are a beautiful mess.)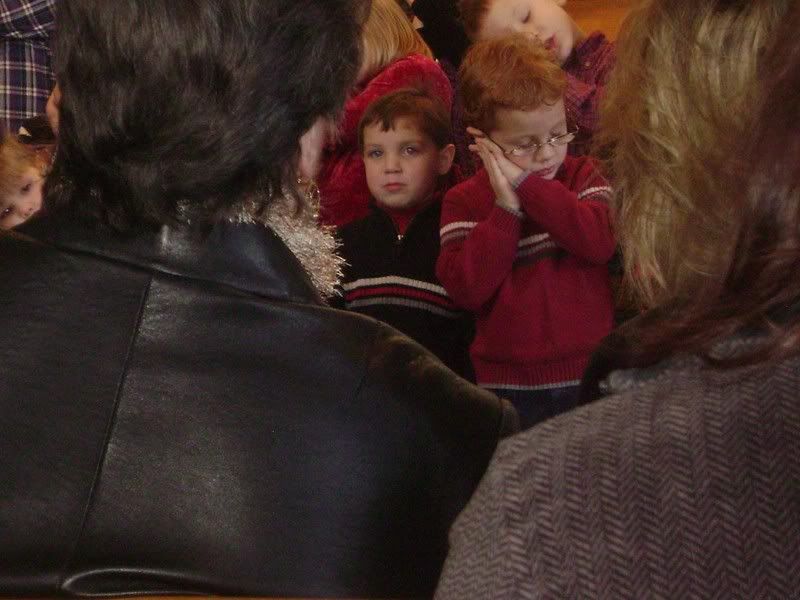 Christmas Program. Trevor's class sang "I'm a little snowman" and Michael rang (with handbells) "Twinkle, Twinkle Little Star" and then their classes sang together "Santa Claus is coming to town" and "We wish you a merry Christmas"
The baby crashed. He had a long day and just collapsed on the kitchen floor.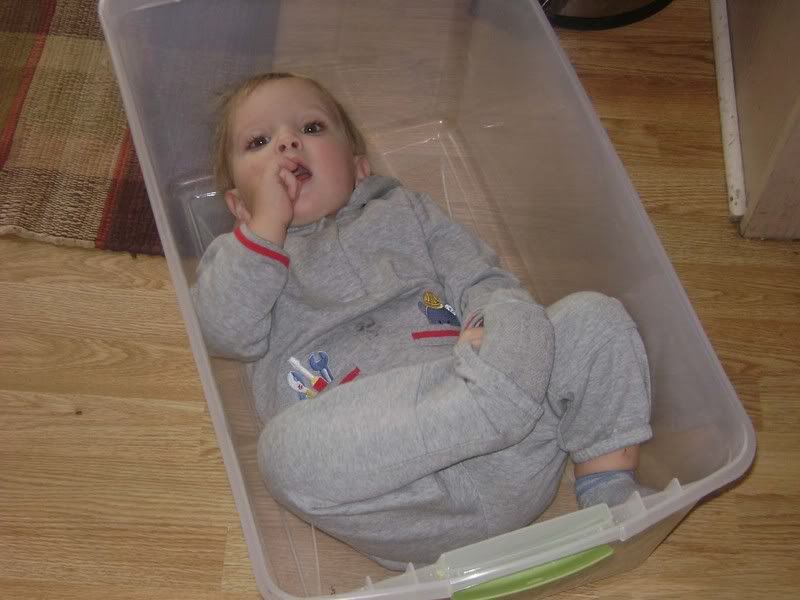 The baby playing in a tote.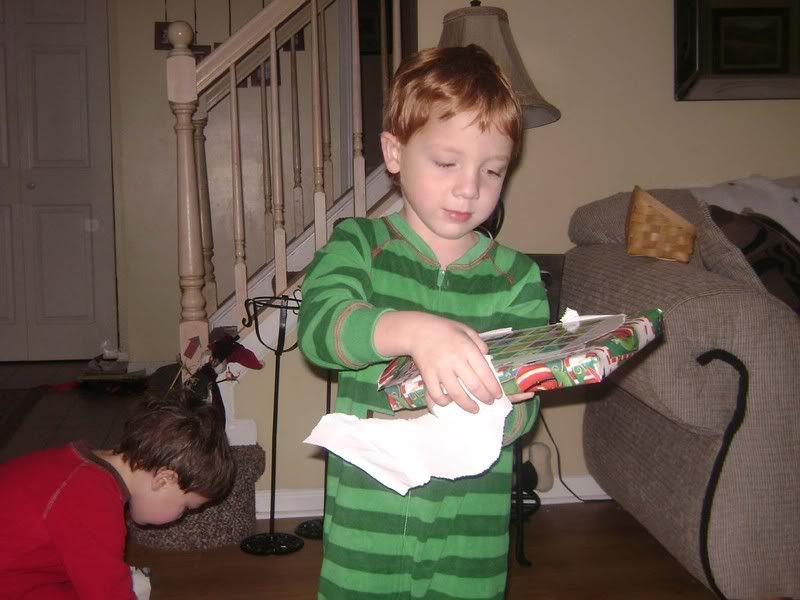 Christmas morning for Michael.
Christmas morning for Trevor.
Christmas morning for Ethan (yes it's a vacuum and yes he plays with it and cleans nonstop)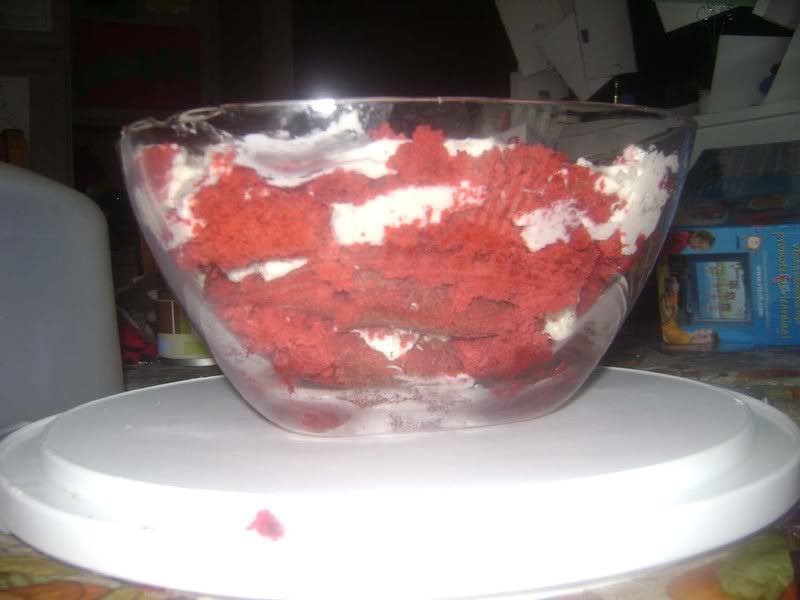 My Red Velvet Cake that was turned into a trifle because Ethan dropped one of the pans on the floor, dug his finger in another one and the third one just fell apart.
Helping daddy fix his headlight.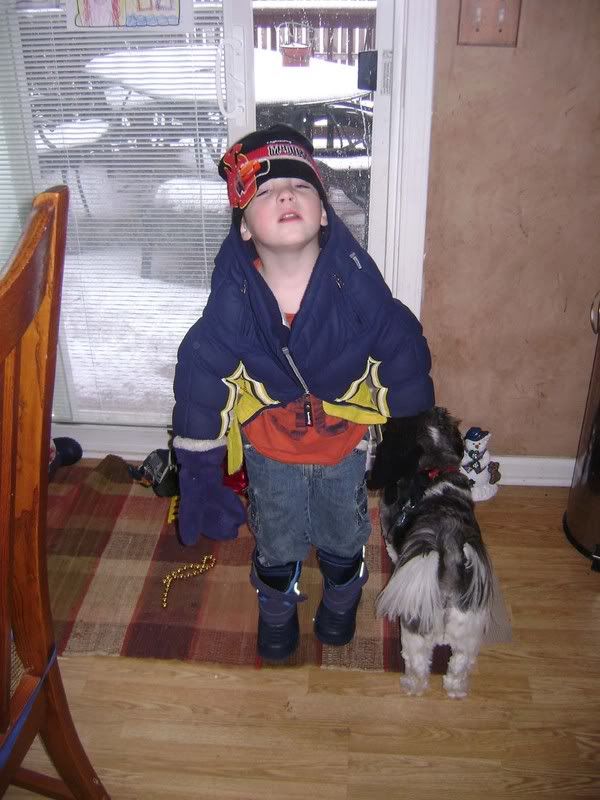 And lastly, Trevor wanted so badly to go outside and play. So he put his new boots on (the wrong feet), his coat (old one) was upside down, two different gloves (one mitten and one glove both were mine, and his hat). He looked rather cute and went and made a few snow angels in the backyard before coming in and asking for hot chocolate.
Well, that is probably enough for now.