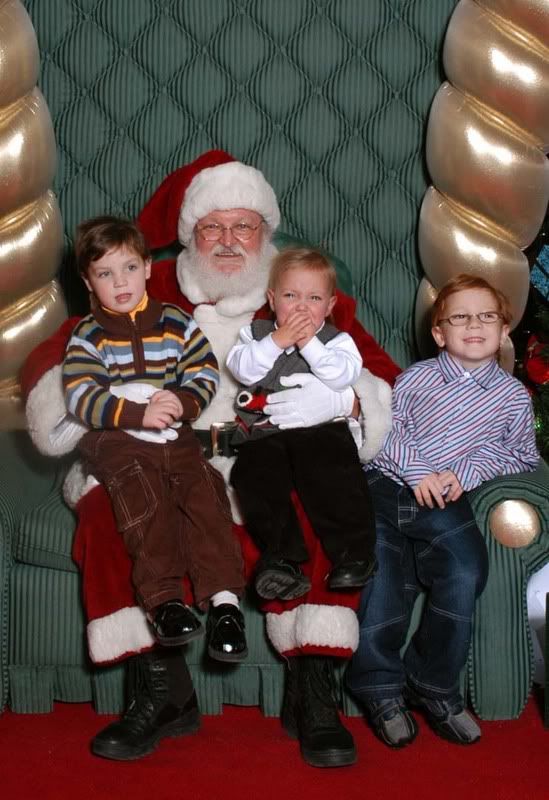 Santa said as I sat Ethan downn that this would be a classic Christmas picture and it sure is. I love the look on Ethan's face with is little hands covering his mouth. And of course Michael and Trevor were looking at me instead of their dad and the camera. These 3 little boys just put a smile on my face (but can also make me frown).
With Christmas fast approaching (2 weeks away but who's counting) and family events starting this weekend, I need to get some stuff completed. So what better way than to make a list:
~Baking - I am way behind, but not worried about it. What gets completed will get completed and what doesn't just doesn't. But today I am going to make some Cowboy cookies and Peanut Butter Delights and some more toffee (the toffee is for gifts). Plus I have to figure out what kind of cookie I am taking to a cookie swap on Sunday and bake 10 dozen of the same kind.
~Gifts to make
1. Quintin - finish his colored pencil roll
2. Julie - oops she sometimes reads so I won't put down what I have to finish for her but know I need to finish it.
3. Joseph - ugh he's a handful and destroys toys, so he's getting a coloring bag.
4. Dale - asked for a Chicago Bears blanket and pillow like the White Sox one I made for him, yikes I need to go shopping.
5. Candle Mats/Potholders for the sibling baskets - This should not take too long.
~Noodle making - 10lbs by Saturday, can I do this, YES I can as Bob would say. 3lbs a day will take care of it, but I think I need more eggs.
~Cleaning - the house is coming along nicely. Just need to do some tidying.
~Gingerbread house - Kids want to make one do I feel like baking all of the sides, not really so it looks like I need to go to the store. probably not today.
~Kids craft - I found these
cute dangles
at
Allsorts
. I have the dangles printed and am going to cut out the kids' names and glue them onto card stock and let the kids add glitter and then we can decide where to hang them. Plus we might have to make some snowmen today with marshmallows.
I also need to take some time for me today and I will do that in the afternoon. I am planning on sitting and reading for a bit. I have many more things to add to that list, but don't want to bombard myself.
For in the kitchen, I thought I would share an eggnog recipe for those that are watching their calories. I received this recipe last year from an email from
HungryGirl
. And I'm sure she will be sending it out again, but I have not seen it come across my inbox. So here it is:
5 cups light vanilla soymilk (they used 8th Continent Light Vanilla Soymilk, I used Fit & Active Light Vanilla Soymilk from Aldi's)
1 sm pkg (4 serving) sugar free fat free vanilla instant pudding
5 no calorie sweetner packets (such as Splenda)
1 tsp rum extract
1/2 tsp nutmeg
Place all ingredients in the blender and mix until smooth. Refrigerate for a few hours. Makes 5 - 1 cup servings.
calories: 88 fat: 2g sodium: 350mg carbs: 11g fiber: 0g sugar: 5g protein: 6g
Points value of 2 and if you add 5oz of rum to the recipe it takes the calorie count to 153 per serving and a points value of 3.

It is a good alternative. And I am watching the calories this year!!!
And because I'm feeling in the a bit in the spirit, I thought I would share a picture from Christmas past: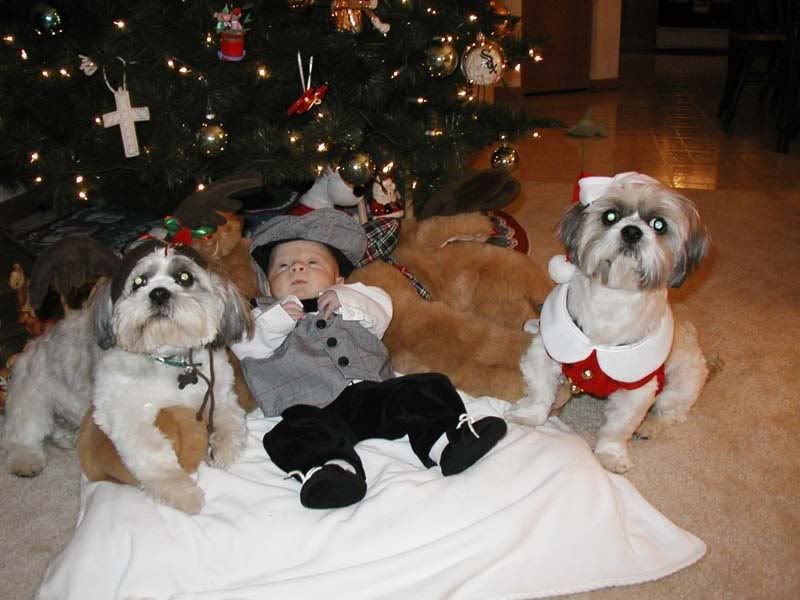 Michael's first Christmas in 2002. And then there is Payton (the reindeer, with droopy antlers)and Carmichael (the Santa).