I know , I know, where have you been? Busy. I have tried to limit my computer time, because I find myself getting lost in Blogland. Then, when I do think, oh you should do an update, I forget the camera. Well finally, here it is and more to come this week I hope.

My sister-in-law is expecting her first child in August. I didn't want to give her a gift for the house, or clothes (because how to you buy maternity clothes for someone other than yourself) or give her a gift card, how boring is that. So I decided to make her a wellness bag. I saw the idea over at Sew, Mama, Sew here.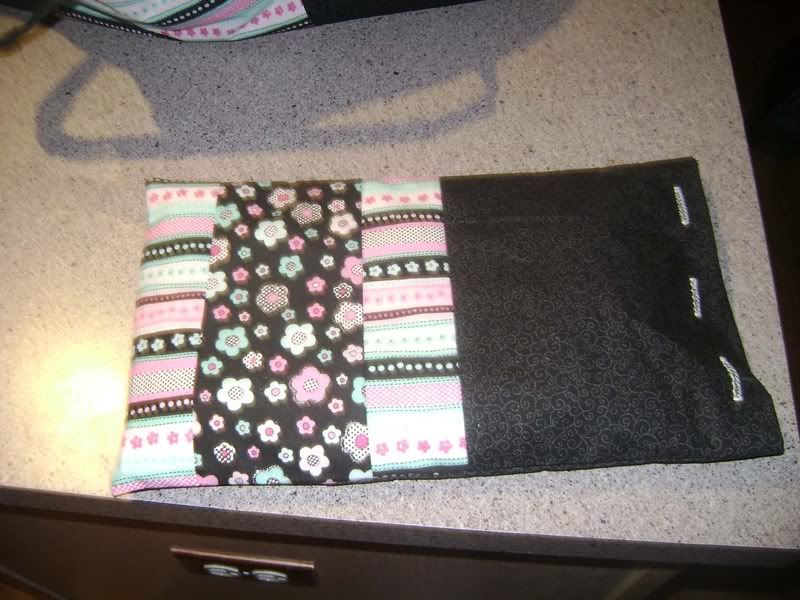 The above picture is the rice therapy pillow. And I did follow the directions for making their pillow. Instead of using velcro thought, I used buttons. I made cute little button holes that coordinate with the colors and then picked out buttons from the colors in the fabric pattern.

This is the Lavendar Eye Pillow. Now, I did not follow her instructions, but did make a plain rectangular one. I made a sock out of muslin to put the flaxseed in and then added dried lavendar from my yard from last summer. I wanted to keep it for myself because it smelled so good.

And lastly, this is the cute little bag I stitched up to go with it. I wrote down my measurements and what I did for the bag, but if I make it again, I will use a stronger interfacing. The sides collapsed to much for my liking. But it does have a pocket on the inside. I also included in the bag, some Bath and Body Works lotions and soaps. And T decided that she needed these cute little lamb slippers, his exacts words were "These are the PERFECT gift mama, we have to get them!" Who can resist the perfect gift. And a candle. I added little tags that I made and explained what each item was and how to use them. But, I didn't take a picture of those. She really seemed to like it.

The next few pictures are a gift for my mom. Her birthday was in February, I know I'm late, but my mom has everything she needs. She buys whatever it is she does need and usually won't tell us what she wants and won't buy for herself. I've made her totes, purses and a rabbit. I wasn't sure what to make for her and then I saw a picture of a quilt in a quilt book she gave me and thought she just might like that. So here it is...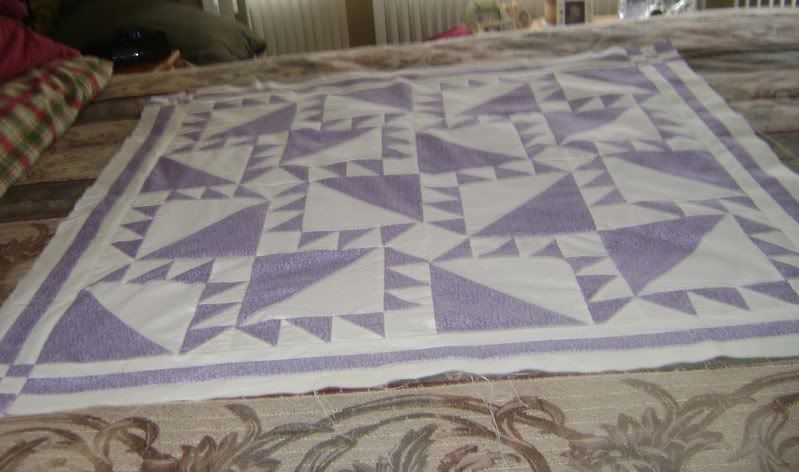 It will make a nice lap quilt. I still have to finish it...the quilting part. I'm not sure how I want to do it though.

I have some other projects I've been working on. But I thought I would save some of those pictures for later in the week.

And I've decided to work on a Dear Jane Quilt. Crazy I know. You can read more about the quilt itself here. And I'm going to ask Anina , if it's too late to join in on her project. I ordered the book, a treat for myself. I have decided to use muslin for the main color, a trip around the world based on what I have on hand and I am going to dig into that box of scraps and precut squares and rectangles of old fabric that was Nonnie's. Wish me luck, I have some catching up to do!!!