A day of baking was in store for me on Sunday. I love to bake bread; the boys love to eat bread. I should bake bread more often but I don't. That is something that is going to be changing though. I always tell myself it takes too long and I don't have enough time. I proved myself wrong Sunday. I baked several things and it really didn't take all that long.

First off, I started the Hamburger Buns that we were going to be using for dinner. I prepared the dough and set it aside for the first rise. I then moved on to baking cookies for T's snack day at school. Once those were complete the dough for the hamburger buns had doubled and I could move onto the next step, which was forming into the buns. I finished that task and set them aside to rise again. I then moved onto making some Italian bread that we will use throughout the week for sandwiches and breakfast items. I finished up the cookies while the dough was rising (filling them with cream, see below) and cleaned up the kitchen. The dough was ready to be punched down and shaped (into loaves) and put into bread pans to rise a second time. Enough time for me to settle down and relax before the timer went off. Off it goes and into the oven they go, after a milk bath and sesame seeds. We had fresh Hamburger buns for dinner and fresh bread for breakfast today.


Onto the recipes and pictures. The Hamburger buns came from The Margaritaville Cookbook by Olaf Nordstrom. We picked the cookbook up on our honeymoon. I haven't made many recipes from the book, but I definitely like the French Bread and the Hamburger Buns. They are keepers and will be used in the future.



The Italian Bread recipe came from Prairie Home Breads: 150 Splendid Recipes from America's Breadbasket. I borrowed this book from the library and fell in love with it. I decided to purchase it. Again, another book that has several recipes that I am going to try but a few that I love already. I like Nonna's Italian Bread , the Cheddar Bread and the Basil Bread.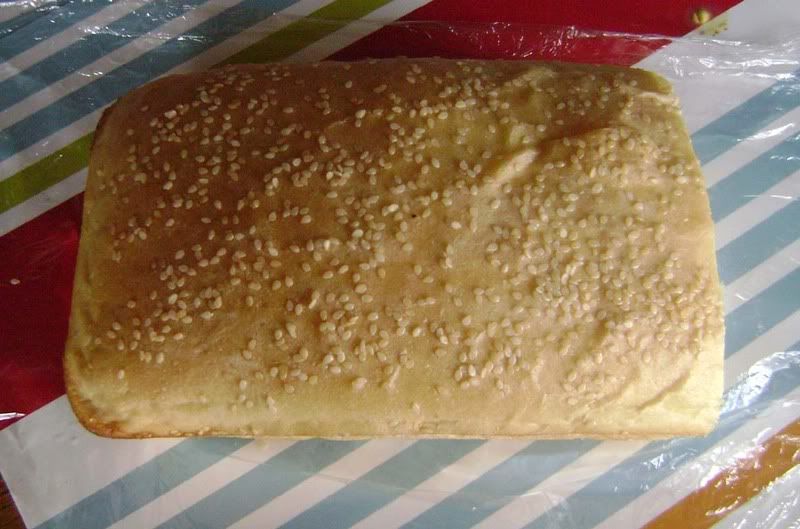 Finally, onto the Oatmeal Cream Pies. T had snack day and wanted to take cookies. He wanted to take sugar cookies and I did not want to make them. To be honest, I'm burnt out on making sugar cookies all the time. I saw this recipe over at The Homespun Heart and thought they looked yummy. All ingredients on hand, we were ready to go. The recipe said that it makes 36 cookies or 18 sandwiches. I used the small scoop from Pampered Chef and was able to get 60 cookies or 30 sandwiches out of it. These were the perfect size for 4-year olds. The kids loved them and so did daddy. A few came home in the container and so we are going to have them after t-ball tonight.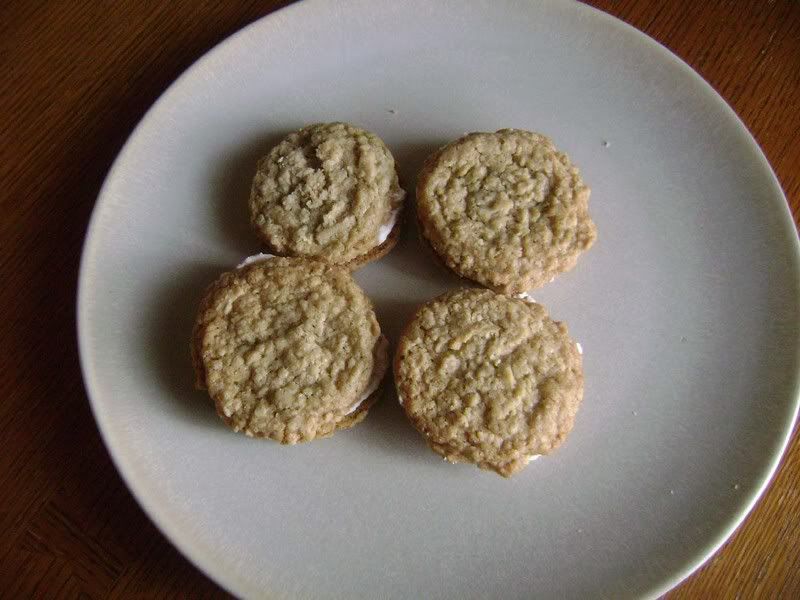 And what about the kids, well, they were either at the park, playing outside with daddy or gone fishing. It was a nice day of baking for me!!!

As for what's baking in my house today, wheat bread. I'll have some pictures tomorrow. As they have just come out of the oven and are not ready to be taken out of the pans.