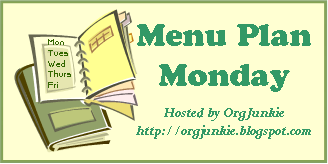 This is my first attempt at a Menu Plan Monday. I have always tried to plan my menus but sometimes get in a menu planning rut or nothing sounds even remotely good. But here goes my attempt at this week.
Monday- Hot Dogs & Chips (real healthy but it's just me & the kids)
Tuesday - Mexican Chicken Sandwiches, brown rice, salad
Wednesday - The boys and I will be taking a day trip to see my family, so I am taking a dessert to a family reunion. No cooking for me!!
Thursday - Not sure - perhaps sandwiches - again it will just be me & the boys
Friday - Steak Sandwiches, crunch time salad, faux-tay-toes
Saturday - Artichoke Tomato Pasta, salad
Sunday - We leave for vacation, so we will be eating out of the car or stopping at a restaurant.
Since we will be on vacation, I have gone ahead and planned next week's menu, so I can get some staples before we leave and then stop at a grocery store and get the perishables once we arrive.
Monday - Mediterranean Pasta with Zucchini, warm pita bread, pear slices
Tuesday - Tex-Mex Stir Fry, tortillas, chocolate ice cream
Wednesday - Tuscan Chicken & Beans, garlic cheese bread
Thursday - Skillet Ziti & Vegetables, crusty rolls & chocolate ice cream
Friday - Tomato Cheese Ravioli Soup, crusty rolls
Saturday - Sandwiches or leftovers
Sunday - We will be travelling home from vacation and eating out of the car or at restaurants.
I realize that we are eating a lot of pasta while we are on vacation, however, pasta is a nice inexpensive meal planner, especially when you are not at home and not familiar with the stove where you are going.