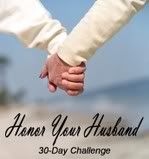 Today is the 2nd update in the honor your husband challenge that
Christine at Fruit in Season
is hosting. I have to be honest and say that this has been a tough week for me. Emotionally, mentally and physically. I have had to work really hard to refrain from saying harmful things. It has been a challenge. So for this week I am going to continue to work on my goals from my original post, which I have listed below:
To be kind and loving towards my husband when he comes home from work. I understand he's had a hard day and to not make things harder on him by being a grump and rude when he comes home.

Not be short with him. Watch how I talk towards him. Don't take the troubles of the day out on him.

Speak openly with him about what is bothering me, but talk nicely and not be so harsh.
My items from last week, which I did not even get done:
Get the office cleaned up and organized. It's a diseaster and he has made comments about wanting to get it cleaned up.

Don't complain. Not only to him or about him. But no complaining in general. I feel as though I have become a negative person and that's not who I am.
We are leaving for vacation on Sunday the 8th and will be gone until Sunday the 15th. So I am going to post a few goals for the trip as well. Here goes:
Try not to get frustrated when we don't leave the hotel room until it's almost the babies nap time.

Find away to allow him some alone time while we are on vacation, perhaps I can take the kids to the pool or for a walk.

Really watch myself and make sure that I do not get angry or frustrated for reasons that I have no control over.
It will be a tough week, I was ready to come home early from our last trip. But the nice part about this trip is we are staying in a 2-bedroom villa that has 3 levels and the 3rd level is a loft. The boys and I will be playing games and reading books for our reading mission this summer up there!
Have a wonderful and blessed 2 weeks.
Wendy