Today has been a catchup day. For blog posts, housekeeping and vegetable preserving. The boys decided they wanted eggs and bacon for breakfast this morning. I said no problem and gave them their bowl to crack their eggs into, while I prepared the bacon for them. It was such a great photo opportunity.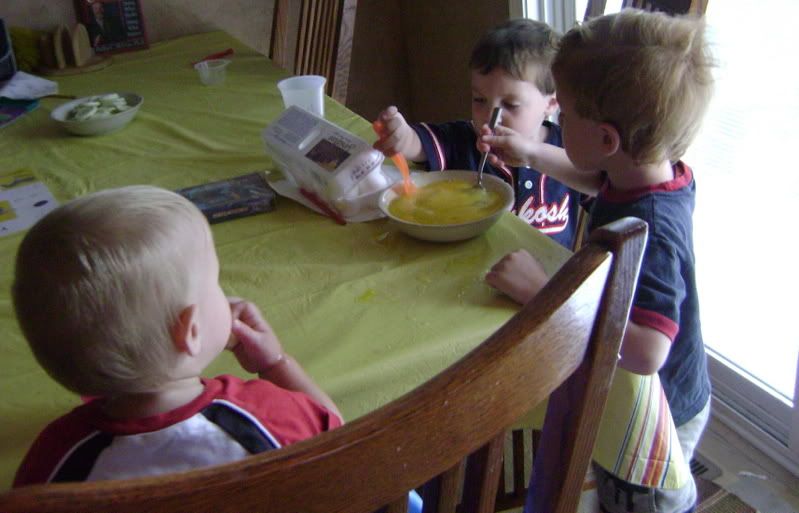 And believe it or not, not one eggshell landed in the bowl. Yesterday they made sugar cookies with their friend, but I didn't have the camera handy. Next time we make them I'll try to snap some photos of them.

I have a big stockpot that my husband gave me for Christmas a few years ago and inside of it my pickles are on their final resting before I pot them into containers and put them in the refrigerator. I'll share my grandma's recipe at a later date. I can't wait to see how they turned out.

The other thing that I did today was prepared some corn for winter meals. I can remember when I was growing up how my dad's family would plant a portion of a corn field with sweet corn. When the sweet corn was ready the entire family would get together and "put corn up" for the winter months. As I grew older, I can remember helping my mom's family do the same. This is the process that we used:


Step one was to remove the husks and silks.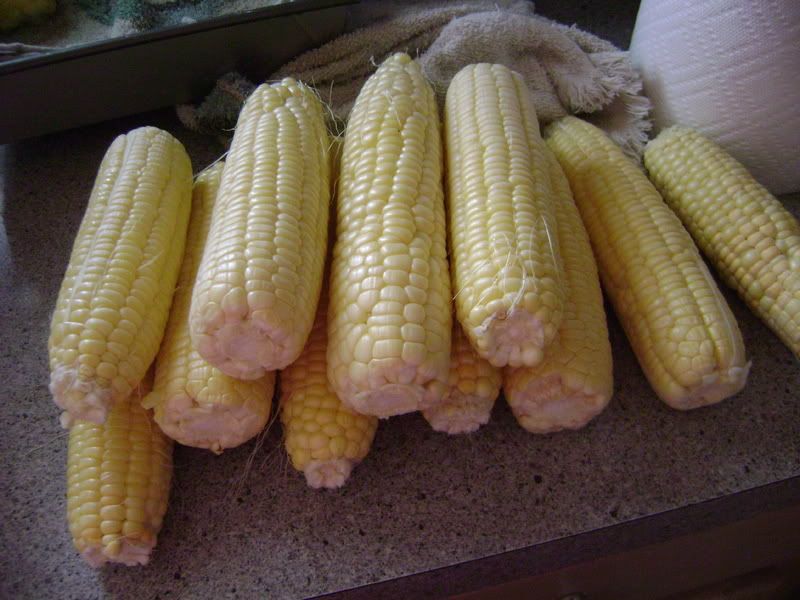 The next thing was to add them to a pot of boiling water. I added 3 at a time, the water was able to return to boiling quickly that way. I set the timer for 2 minutes, the water had returned to boiling by this point and they had a chance to roll around in a rolling bath for 30 seconds.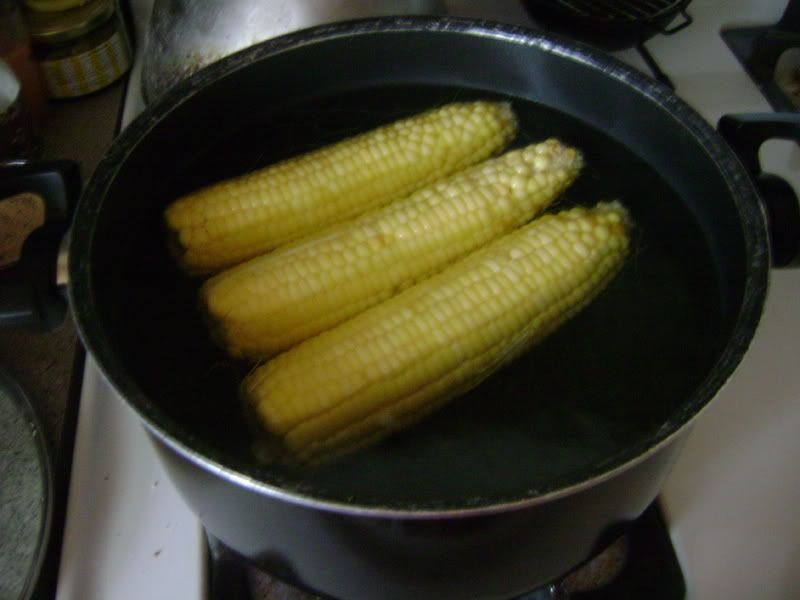 I removed them from the boiling water to a cold water bath. Where they sat for 2 minutes.

The corn was then placed in a baking pan, on a towel, to let the water drain off and to finish cooling.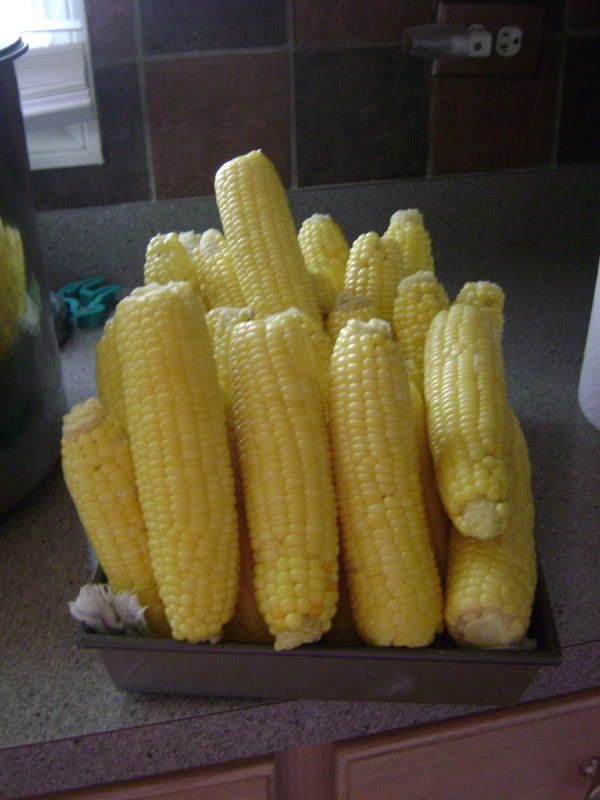 After they were cool to the touch and could easily be handled (about 30 minutes), I started to cut the corn off of the cob. I would first take the corn off and then after the corn had been taken off I would scrape the cob with my knife to make sure I had gotten all of the milk.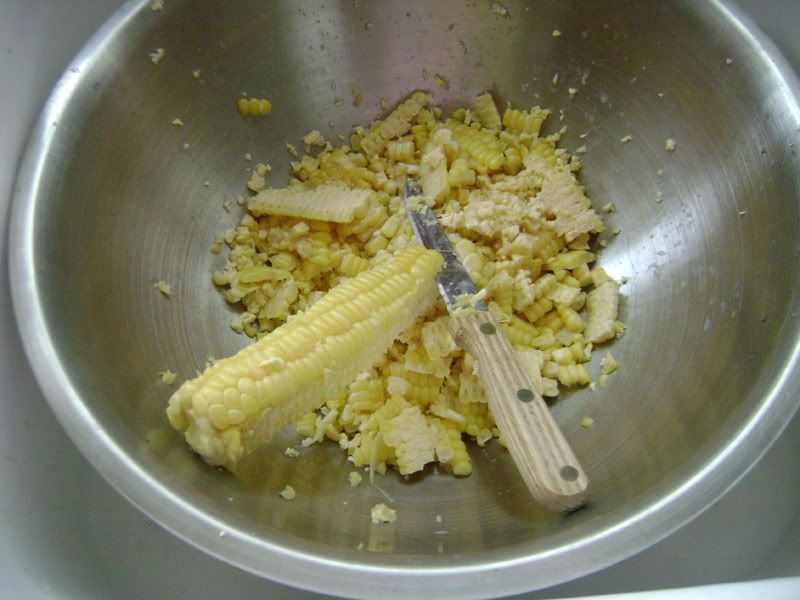 This was my bowl after I had finished cutting the corn off the cob.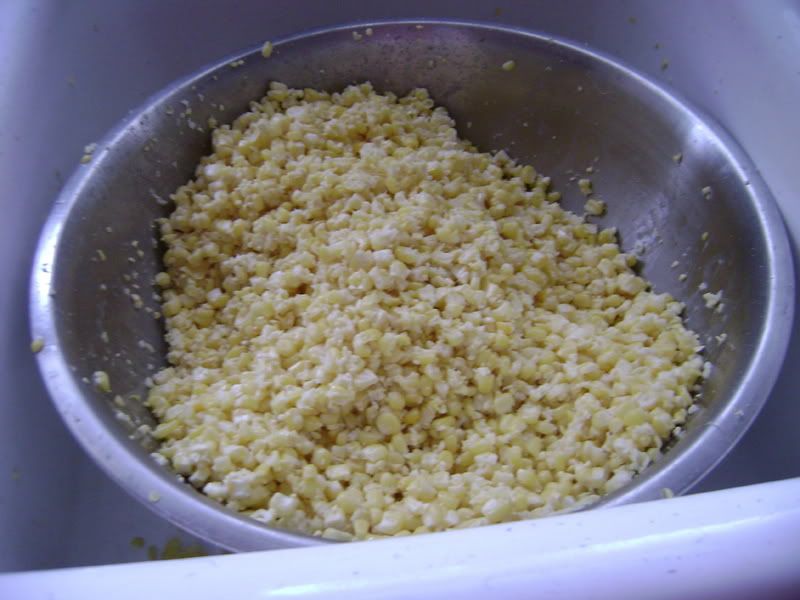 I then used a coffee cup to put my storage bag in and scooped up 1 cup of corn and placed in the storage bag, removed the bag from the coffee cup and added another cup of corn. Sealed the bag and removed any air bubbles and set aside until all of my corn was gone.
From 26 ears of corn I was able to get nine 2-cup bags of corn for the winter months.
I'm going to call my dads mom this afternoon and let her know that I "put up" some sweet corn for the winter months. I'm sure she'll be glad to hear that I tackled this on my own. And I'll call my grandpa this afternoon and thank him for the corn, that resulted in my adventure this morning. It wasn't as hard as I thought it would be and it didn't take nearly as long as I thought it would.