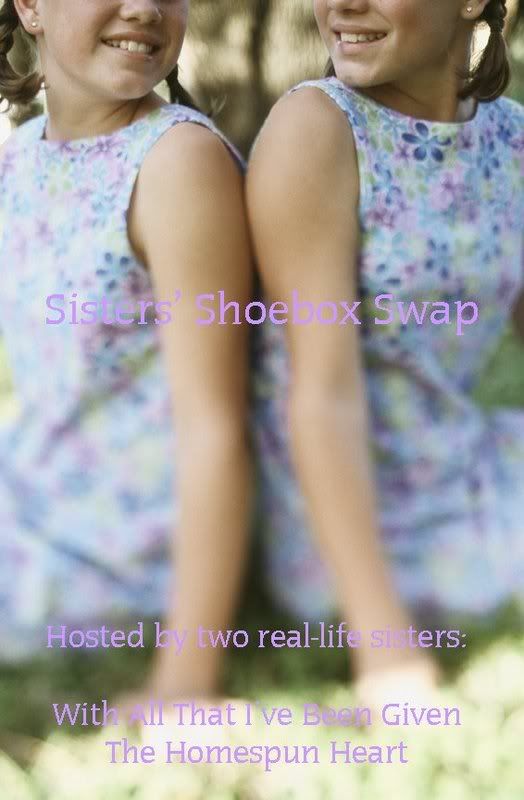 I recently participated in the Sister's Shoebox Swap hosted by Monica and Carrie . The theme for the swap was "Refresh". Dictionary.com defines refresh as:

1. to provide new vigor and energy by rest, food, etc. (often used reflexively).
2.to stimulate (the memory).
3.to make fresh again; reinvigorate or cheer (a person, the mind, spirits, etc.).
4.to freshen in appearance, color, etc., as by a restorative.
5.Computers.
a.to display (an image) repeatedly, as on a CRT, in order to prevent fading.
b.to read and write (the contents of dynamic storage) at intervals in order to avoid loss of data. –verb (used without object)
6.to take refreshment, esp. food or drink.
7.to become fresh or vigorous again; revive.

What a wonderful time I had picking out items to put into Barbara's box. Here are the photos of what I put in her box.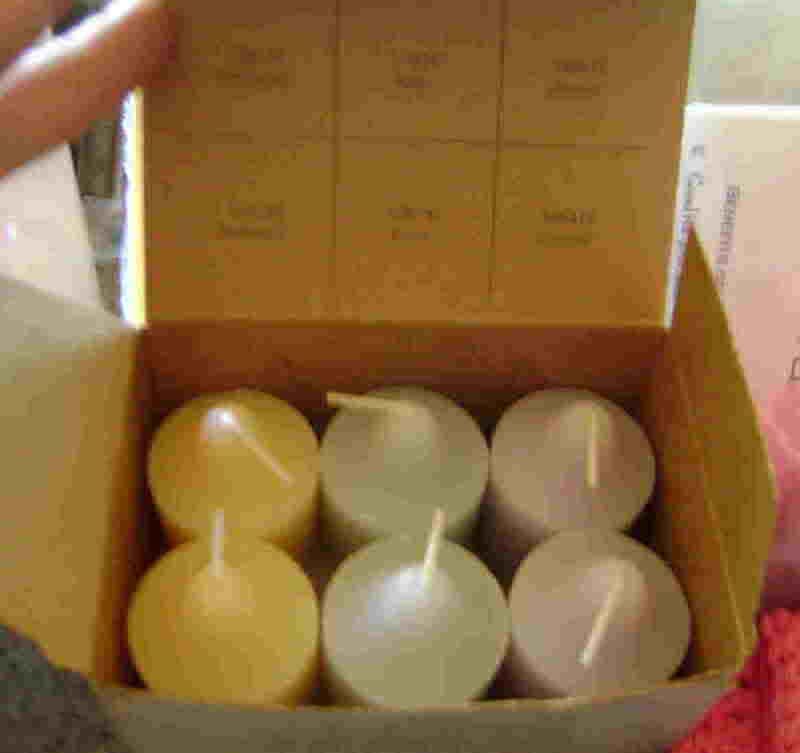 Candles from Partylite. This was a sample box of their relaxation candles. I was formerly a consultant and had candles leftover and thought they would make a nice addition. For our refresh theme.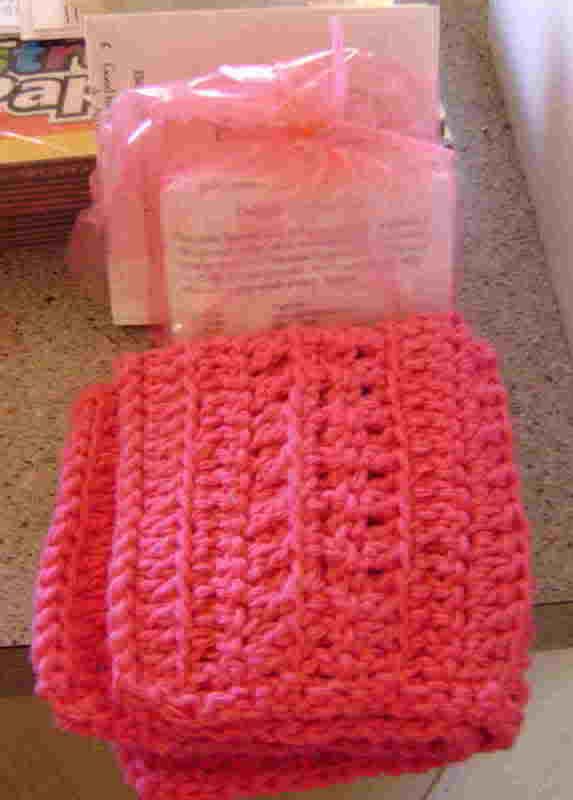 Barbara likes the colors chocolate and pink. I crocheted her a dishcloth in pink and gave her a bar of Chocolate Fantasy Soap. I visit our farmer's market regularly and Moon and Stars Soaps has a wonderful display of handmade soaps. I have spoke with her on several occasions regarding different types of soaps to use for different things. She helped me to choose the soap for Barbara's.

A stress relief kit. Need I say more. I think that all of us endure some type of stress everyday in our busy lives and we can all use a bit of stress relief. There is soap, lotion, a spray and a gel mask in the bag.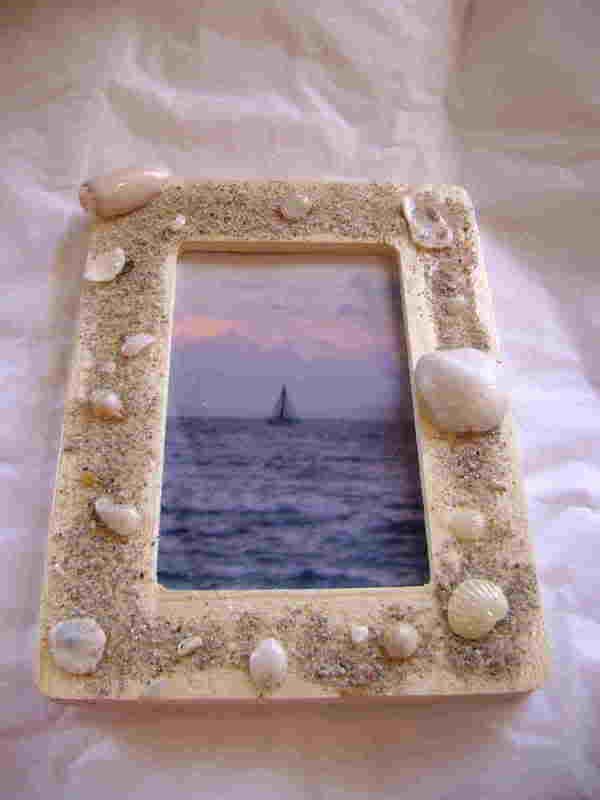 And finally, I must say this was my favorite part of the box. I vacationed with friends in Palm Beach Shores, FL in August. We gathered shells on a daily basis, I came home with all sorts of shells. My luggage was too heavy, and I even had some in a carry on bag. But they are beautiful and my boys just love them. Back to the picture frame...I picked up the frame at Michael's and then rubbed some craft glue all over the frame and then sprinkled sand on the glue. The sand came from the beach we walked on every day. Then I glued an assortment of shells onto the frame. And to make sure that the shells and sand stayed in place, I sprayed the picture from with clear glaze. I added a picture I took of a sailboat sailing into the sunset. I also enclosed in the box a pair of pink daisy slippers and a bottle of Cherry Blossom Anti-Bacterial spray.

Now for what I received...


I just love all that was enclosed in my box. There is a star shaped pincushion, slippers in purple shades, a heating/cooling pad, a cross stitch picture and all the necessary supplies to make it, some tea bags with I believe a tube of honey and the book "The Purpose Driven Life" which is on my to read list. The cross stitch picture is of a chair and it reads "Oh! For a book and a cozy nook! And oh! For a quiet hour." - Anonymous.
Thank you to Monica and Carrie for hosting the swap and thank you to Barbara for all of my goodies. If you would like to see what others received, check out Carries blog for Mr. Linky.
That's all I have for now, but I am working on a halloween treat cover that I will be posting about later or perhaps tomorrow. Have a great day!!